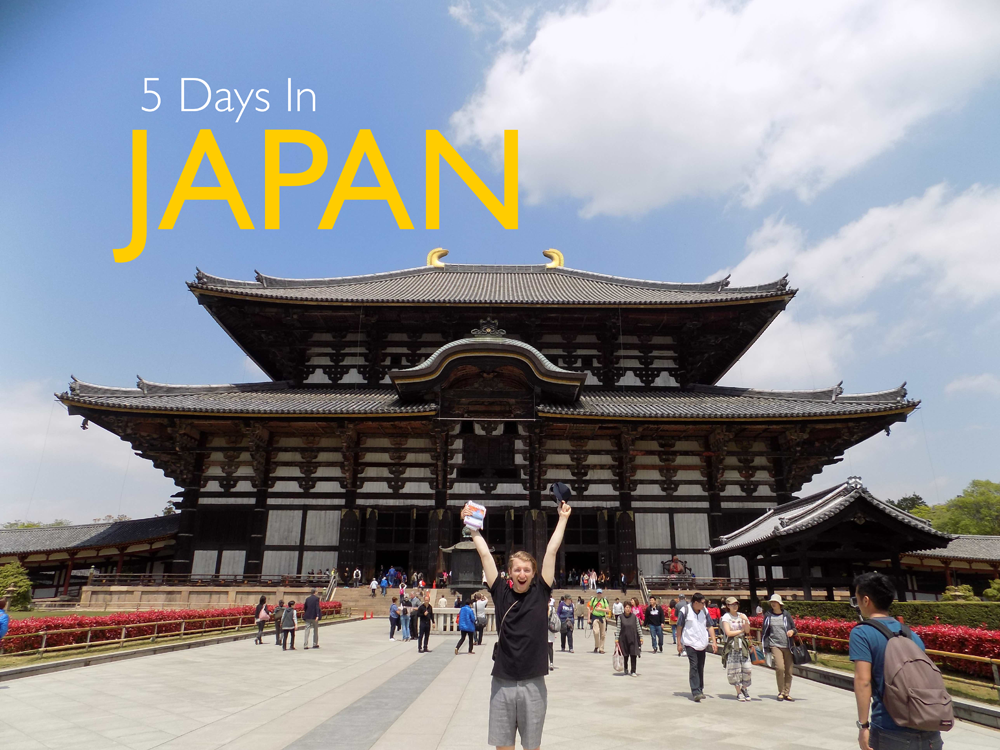 Japan remains a fascinating country to visit and provides ample opportunity for travelers to experience Japanese culture first hand.
Akemi's daughter Rimika and partner Aidan traveled to Japan earlier this year and the pair provided this insightful blog report which also provides tips and advice for people interested in visiting Japan.
NOTE: You can buy a JR pass for different lengths of travel. We bought the JR Passes for 1 week of travel and used them on JR trains around Tokyo and Kamakura before our journey began proper along the South Eastern Japanese coastline. The direction of our route was southbound from Tokyo down to the region of Kansai where all of these following cities and stops can be found.
Day 1 Kyoto
Day out in Kyoto. We got up nice and early at our Toyoko-Inn hotel by the station at Shin-Osaka and ate the delicious filling breakfasts they serve every morning, on the house. Onigiri (rice balls) and miso soup, condiments, pickles, grilled fish, toast, sandwiches, tea, coffee, orange juice and more all with refills. I used to get up in the mornings at our Toyoko-Inn base excited about breakfast.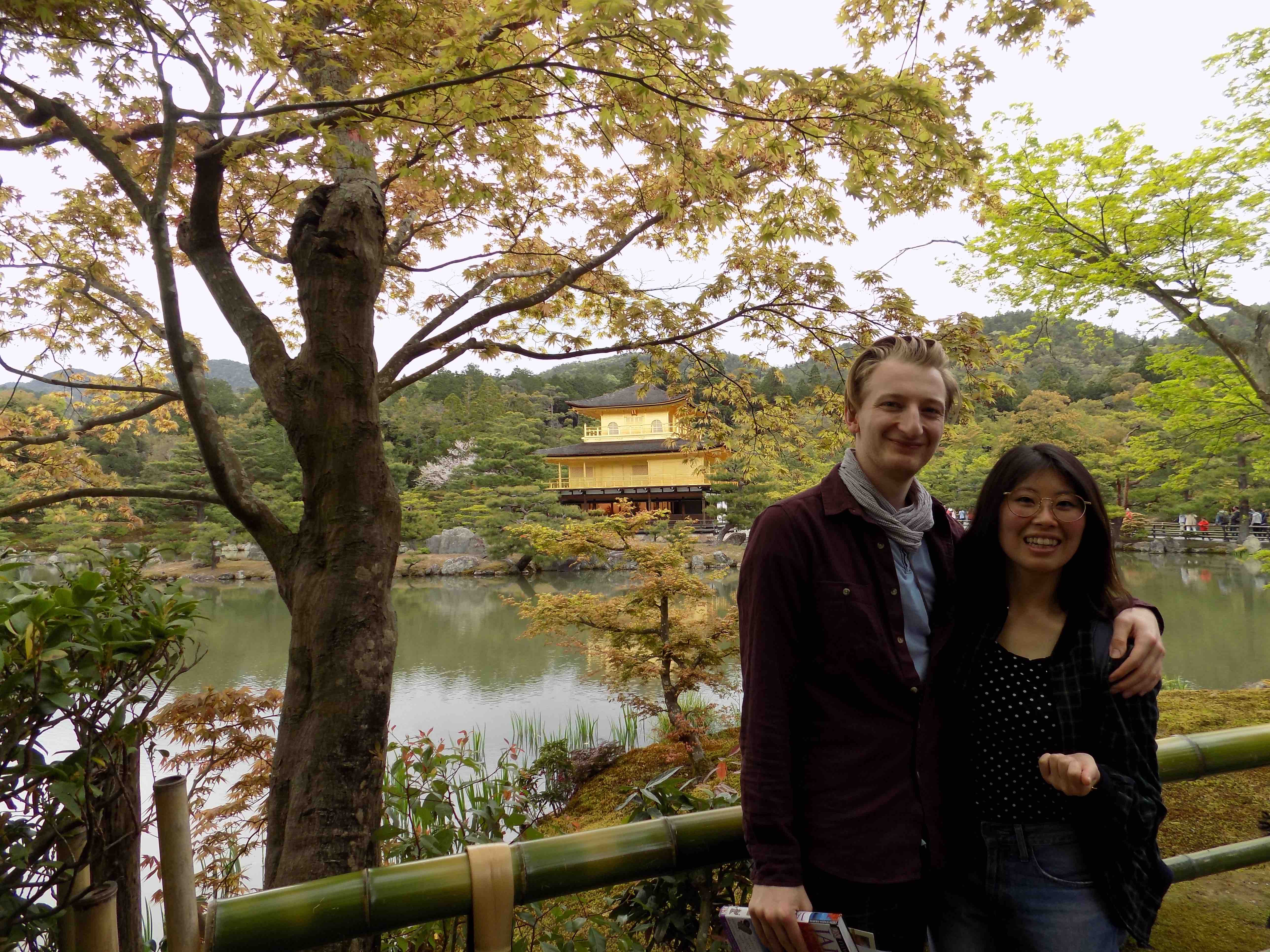 Got a bullet train from Shin-Osaka station to Kyoto which was very quick, only a few stops and took about 20 minutes. Whilst we were sat in our seats on the Thunderbird Shinkansen admiring its sleek retro-style wood-panel interior an impeccably dressed ticket officer came by and told us that we needed to reserve seats before getting on the Shinkansen because we were sat in the Reserved carriage. Woops. But because we didn't have far to go until Kyoto the nice ticket officer let us ride in the carriage and told us to make sure to book tickets in advance next time. This was the only time we made a mistake travelling with Japan Rail. Helpful staff in ticket offices and at platform barriers, reliable timetables and clear signage in stations makes rail travel the best way to move between Japan's cities.
NOTE: Book seat ticket(s) in advance for the Shinkansen so you can sit in the Reserved carriages. How do you book tickets in advance? Go to one of the Green Window Ticket Booths at the JR station; look out for its lime green signage. Don't worry if you don't have time to book because there are Non-Reserved carriages for those travelling with a JR Pass but without a seat reservation.
First stop in Kyoto: Kiyomizu-dera or Kiyomizu Temple
Advised by a friend to get to this temple early to avoid the crowds and get the best views we started off from the nearest station and walked up a lovely street lined with shops selling exquisite lacquerware. Once at Kiyomizudera there were already tour groups arriving but undeterred we entered the temple complex that is positioned on a high mountainside overlooking the city of Kyoto. The views are breathtaking – laying the promise of Kyoto before us, a city ready to be explored. The pagodas are painted a garish vermillion and billowing smoke wafts out of the old wooden temple followed by hits of the gong. The temples are completely open to the mountain views, but so large that visitors become swallowed by shadow as they move towards the hearts of the grand spaces. Us and all the other tourists were stood on a structure built completely by joinery (not a metal nail in sight) and positioned next to a sacred spring that visitors could wash their hands in and drink from. You have to pay for that experience and looking at the queue and the list of other things in Kyoto we wanted to do before sunset, we made the decision to carry on to our next destination.
Second stop in Kyoto: The Philosopher's Walk
After a matcha lunch set, which was whipped green tea and traditional Japanese sweets in molasses at a lovely Japanese-Western hybrid cafe, we walked through the old streets of Gion and then marched all the way to the Philosopher's Walk by the canal at the foot of Higashiyama (eastern mountain).
NOTE: The public transport systems in Kyoto are great so use them when you can. For some unknown reason Aidan and I decided to walk everywhere so in our Kyoto day we walked about 15 km in all, and not everyone may have the footwear (or feet) to do that. My feet were swollen by the time I got back to the hotel.
The Philosopher's Walk has the name because an esteemed Kyoto University professor took his daily constitutional walk there. We did the reverse route of what is usually described on the maps and guides so we started the walk at Nansenji with a view to arrive at Ginkakuji or The Silver Pavilion. It is a pretty walk lined with cherry trees and there are many temples and shrines you can visit during your stroll. The diversity of monuments pay tribute to the interplay of Shinto and Buddhism in Japan's spiritual life. We stopped in at Otoyo Jinja, a shinto shrine, famous for its animal deities. At the shrine there are offerings and statues that depict a kite, a monkey, a snake and some mice. There are coy carp in the waters of the canal and on the way you will pass an old and possibly abandoned Neko Cafe (Cat Cafe) where elderly cats are still hanging out. By the end of our canalside walk it is getting more populated with tourists and we approach one of the most famous landmarks of Kyoto…
Third stop in Kyoto: Ginkakuji or The Silver Pavilion
Nothing is silver and nothing is more understated than the beauty of The Silver Pavilion with its surrounding landscape garden. There are striking Zen rock garden features, beautifully shaped trees and a curious path leading visitors in to the depths of the garden which is subdued yet powerful, full of wonder. The winding paths cause the garden to fold in on itself, making it seem larger than it is and surprising visitors with carefully constructed views evoking the spirit of Japan's mountains, islands and lakes.
Fourth stop in Kyoto: Kinkakuji or The Golden Pavilion
We got a bus and rode 40 minutes to The Golden Pavilion, which is next to a hill with a big kanji symbol embedded on the rock face. Once inside we were stunned by its splendour. So shiny and golden; surrounded by the blue mountains and looking as though it were floating above a mirror-like lake. The Golden Pavilion was made earlier than The Silver Pavilion and is more elaborate in design with Chinese imperial influences in its architecture. The building itself makes more of a lasting impression than its silver counterpart. However, you really have to see both to appreciate the beauty and history of Kyoto. I called Kyoto the Japanese Florence.
Fifth and final stop in Kyoto: Ryoanji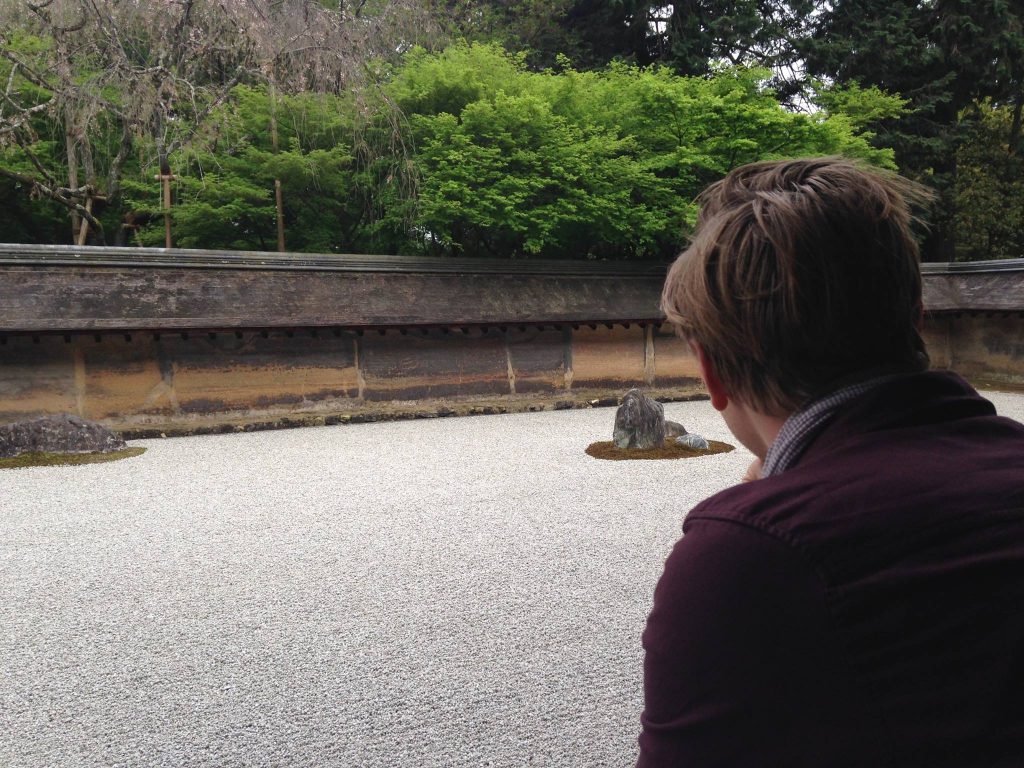 We ran down the road from Kinkauji and arrived at this temple complex with just half and hour to spare before closing time. Phew. Luckily it being near closing time we were able to see this master Zen rock garden without crowds or too much noise. It was quiet and peaceful and a few tourists were dotted around contemplating the patterns and features of the walled off dry rock garden and afterwards you can stroll through Ryoanji's expansive grounds with a scenic lake as the centrepiece. The tofu restaurant inside the grounds is supposed to be delicious but we were too late to have our dinner there.
Dinner: Gontaro (gontaro.co.jp)
Nearby and on the walk between Ryoanji and Kinkakuji we found a Japanese traditional style soba and udon (Japanese noodles) restaurant. It is tucked away off the street through a Japanese entranceway and the food they serve is delicious and reasonably priced. We both had a soba-set which came with tempura atop a noodle broth and it was the perfect way to end the day with a nama-beeru (poured pint) sat on tatami mats with our legs stretched out and looking out on to a pretty Japanese garden. Most of our conversation was spent reviewing our day. We were pleased with the way our visit to Kyoto had been (quite accidentally) ordered. The morning gifted us with an overview of the streets which we then plunged into; the canal-side walk offered respite from the crowds of tourists and then we found three expressions of culture, power and Zen Buddhism becoming more abstracted and essential.
Day 2 Nara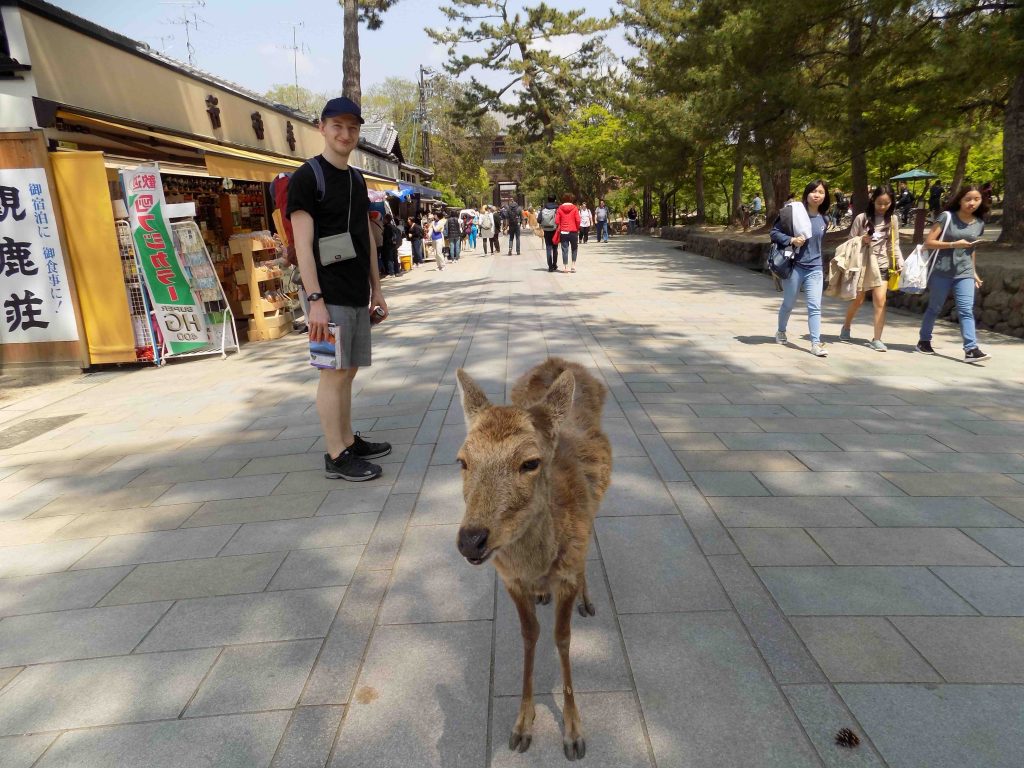 We had a more leisurely start to the day for Nara. Again I hungrily ate the delicious free breakfast at our Toyoko-Inn base and we left Shin-Osaka station to get a JR train which took about 1 hour 30 minutes to arrive at Nara. We had been told that Nara is much smaller in scale than Kyoto but both had been past capital cities of Japan hence why they are filled with temples and shrines. There are also lots of wild deer roaming Nara Park and they are supposed to be messengers to the gods, though some looked a little worse for wear. It was a relief to realise that their coats were shedding because of the season, rather than health issues!
First stop in Nara: Todaiji and the Great Buddha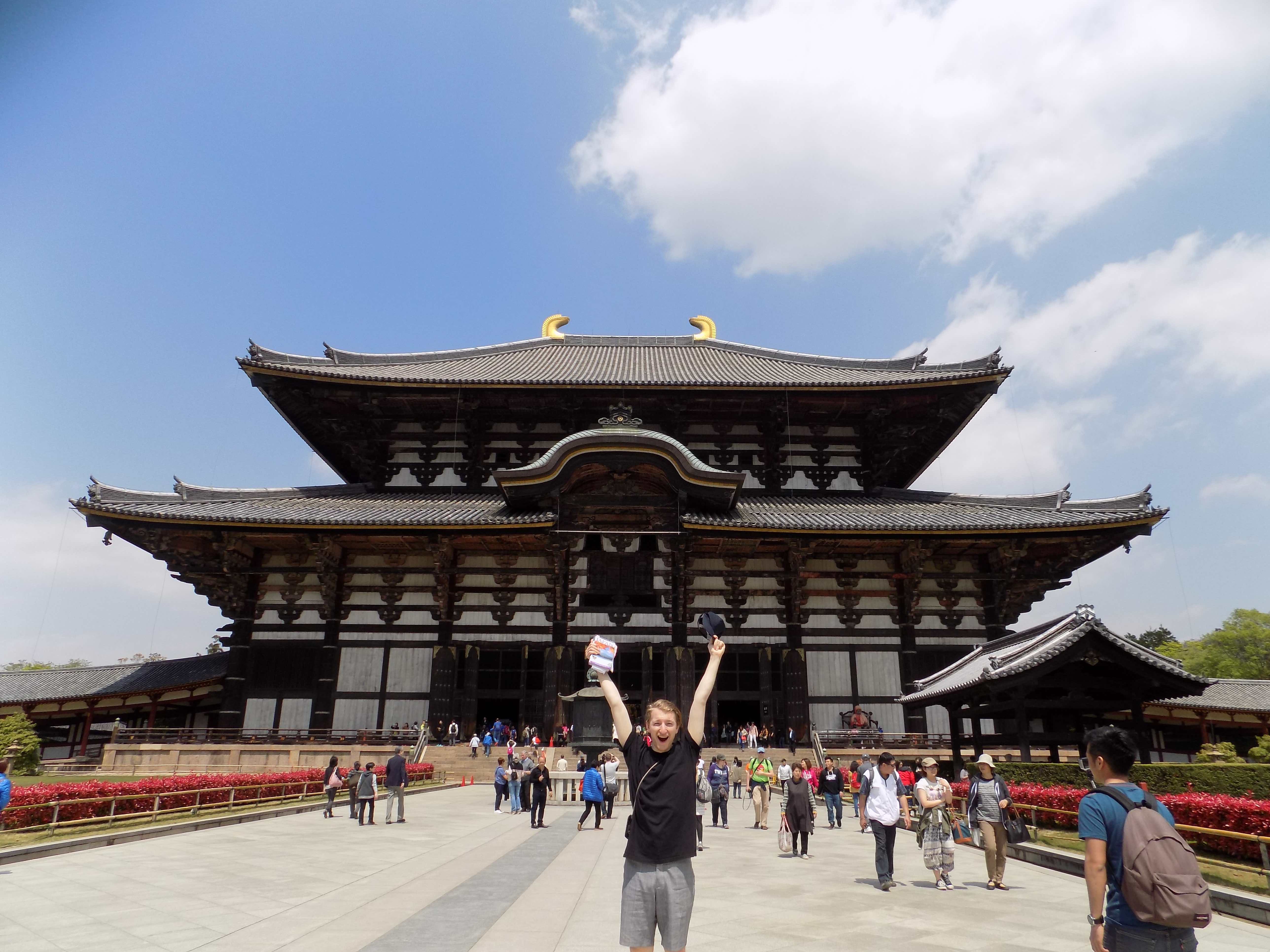 Todaiji is the largest wooden structure in the world, which is the house for the largest bronze Buddha in the world. The sight is grand and leaves your mind boggling as to how they would have made either structure, and to think that the wooden house for the Great Buddha used to be a third wider is unbelievable. Inside Todaiji it is dark and holy in atmosphere and the Great Buddha is ensconced in shadows; there is the sound of chimes, the smell of burning incense and the sight of glowing reflections from candles. Tourists, pilgrims and school groups excited by the scale of the hall were uniformly silenced by the sturdy solemnity of the Buddha figure, giving a gesture intended to 'banish fear' with a hand large enough to hold four monks. Behind the Great Buddha are more huge statues of protective deities and a famous wooden column with a hole at its base. Legend has it that whomever can crawl through the hole will reach enlightenment and so we saw babies and adults squeezing through one at a time, some more likely than others to get stuck.
Second stop in Nara: Kasuga Jinja or Kasuga Shrine
A large Shinto shrine complex with a sacred tree at its centre. There were many beautifully dressed Miko-san in their vermillion and white robes wearing ornate headdresses with silver pieces and purple flowers hanging from them. The forest surrounding it are filled with lanterns of different heights, styles and states of disrepair, gathered like a crowd of spectators along the complex's pathways.
As many of the temples and shrines of Nara are within the park we enjoyed walking through it at a leisurely pace and taking in the landscape and the deer and stopping off at places that looked interesting. Along the way we had lunch at a soba restaurant under the forest canopy and Aidan bought a vintage happi (overcoat-style Japanese robe) from a family-run shop.
Third stop in Nara: Shin Yakushiji or Shin Yakushi Temple
Walking outside of the Nara Park and in to a more residential area we visited this temple, which was built originally by the Empress Komoyo in 7th century A.D. for her sick husband the Emperor, who was trying to complete the building of the Great Buddha but fell ill. Shin Yakushiji is thus a contemporary of the Todaiji but it is more calm and quaint than the grand massive structure and the temple is dedicated to the healing Buddha. Inside a dark room there sits a Buddha surrounded by Twelve Guardians who look like warriors or scary superheroes made of clay in faded colours. Since they relate to the different years of the Chinese calendars we enjoyed picking out our champions. It is a stirring sight and quite surreal when you see the serene mixed with the violent, and you really have to see it for yourself because they don't allow photos to be taken inside.
Fourth stop in Nara: Five-storied Pagoda
Walking back in to the Nara Park the sun was shining so we had a little rest at an open pavilion on the middle of a lake, I took my shoes off and had a stretch and we spotted a turtle craning its neck before sliding back in to the water. Then we made it back to the entrance of Nara Park to admire the Five-storied Pagoda that looms high in the blue sky.
Fifth stop in Nara: Naramachi and the Toy Museum
The inner streets of Nara called Naramachi are charming with shops for bits and bobs lining either side of the covered streets, and if you continue to walk through the ordinary streets you come across traditional Japanese sweet shops, pickle shops, tea shops and more. Turning off one street we stumbled upon the Toy Museum run by an old man whose passion is for the toys of the Edo Period. It is free entry and worth a visit because some of the handmade toys constructed from wood, paper and string are enchanting in their mechanical manoeuvres and fun to play with. We learnt a game of shadow puppetry making use of the paper walls and doors of Japanese houses. Twisting your body into various strained poses, you can cast a shadow in the shape of animals, furniture and landscapes and people have to guess what you are.
Dinner: Osaka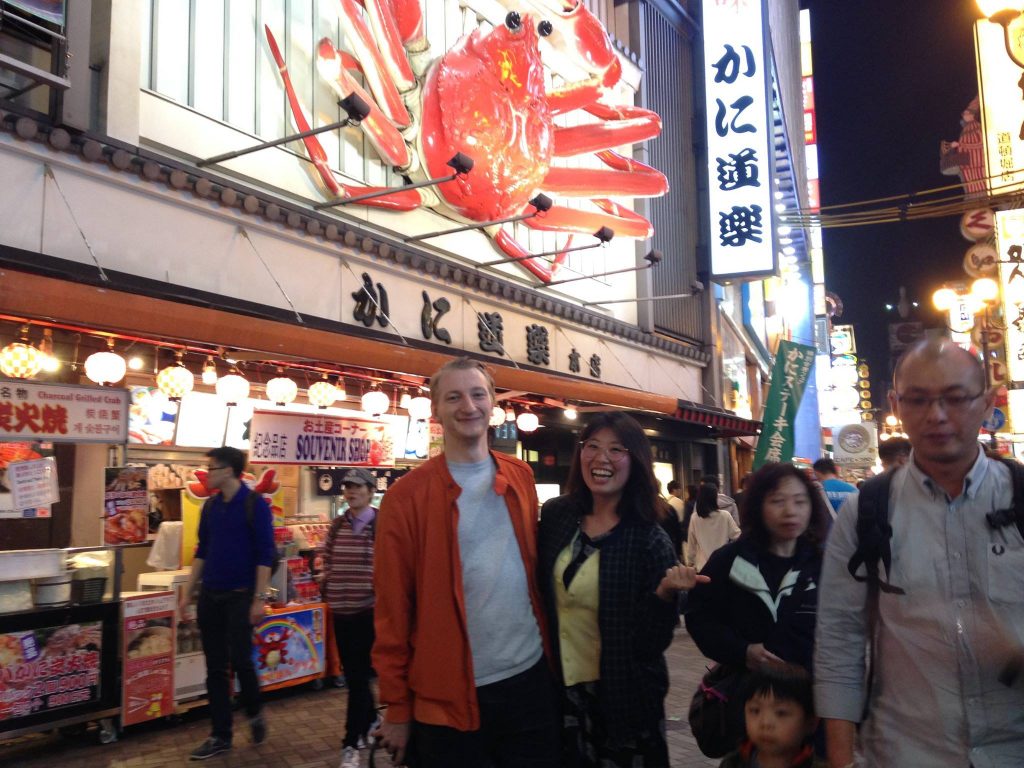 For dinner we took a train back to Osaka and found ourselves an okonomiyaki restaurant because Osaka is the proud home of this delicious egg pancake dish. Osakans are also famed for their merchant roots and their more direct Japanese manner and so the night life of Dotonbori in all its neon flashing splendour is something you have to see whilst this way in Japan.
Day 3 Himeji
On our final day of setting off from Shin-Osaka I got my big fill of the free breakfast and headed on to Himeji, which is on the way to Hiroshima. Once at Himeji railway station we dropped off our bags in a coin locker and made our way to the castle.
Himeji Castle is a great big impressive Japanese traditional style castle. It has bright white walls and large jumping fish statues that adorn the ends of all the tiled roofs making them look like floating samurai helmets from a distance. Himeji Castle is the paragon of all Japanese imperial palaces because of its intricate defensive wall system, the moat, and the inner wooden five-level structure. The castle and its palatial grounds were built up by successive feudal clans and it was so renowned for its fortress-like strength that Himeji Castle never came under attack during its reign. Inside its grounds there is also the Cosmetic Tower (or Princesses Tower) where all the royal women got locked up for protection and kept by the samurai, and where one tragic tale of Princess Sen is on display for visitors.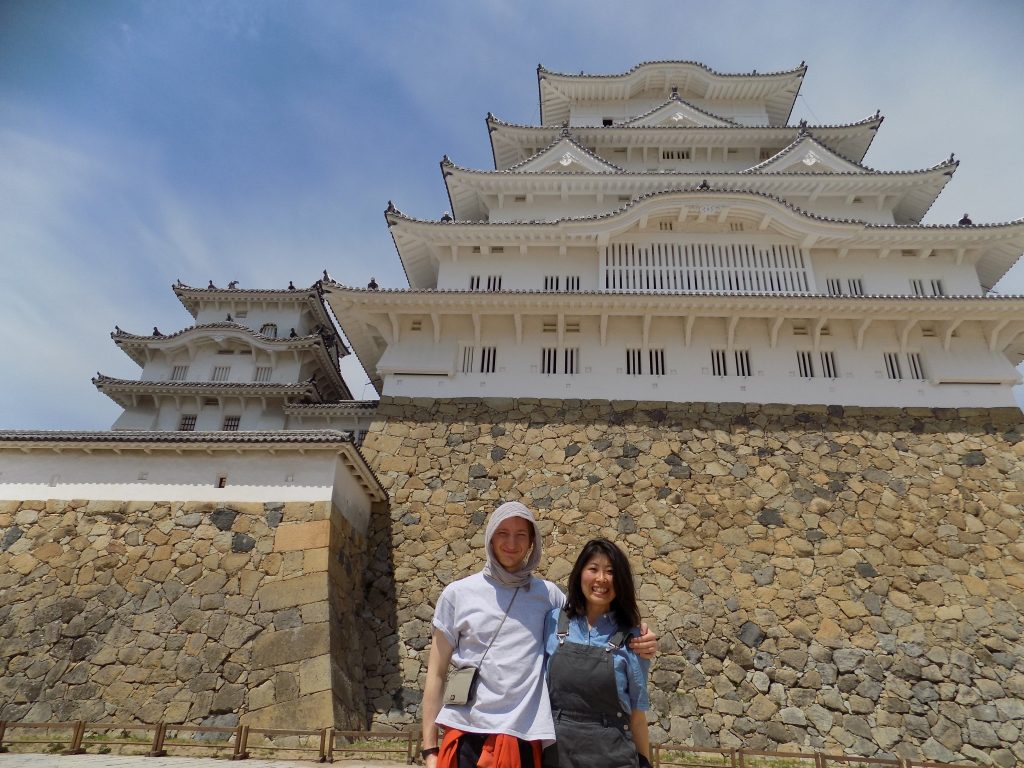 Koko-En is about a 500 metre walk outside of Himeji Castle and is a reconstructed garden complex from the same period. It holds many walled gardens that are beautiful and exquisite thanks to their carefully selected variety of trees and shrubbery which are placed in balance with the water features, coy carp, even a heron and the place is an earthly paradise compared to the strict military structures of Himeji Castle.
After seeing Himeji Castle and the Koko-En we travelled by Shinkansen to Hiroshima where we would be spending the night at another branch of our favourite Toyoko-Inn.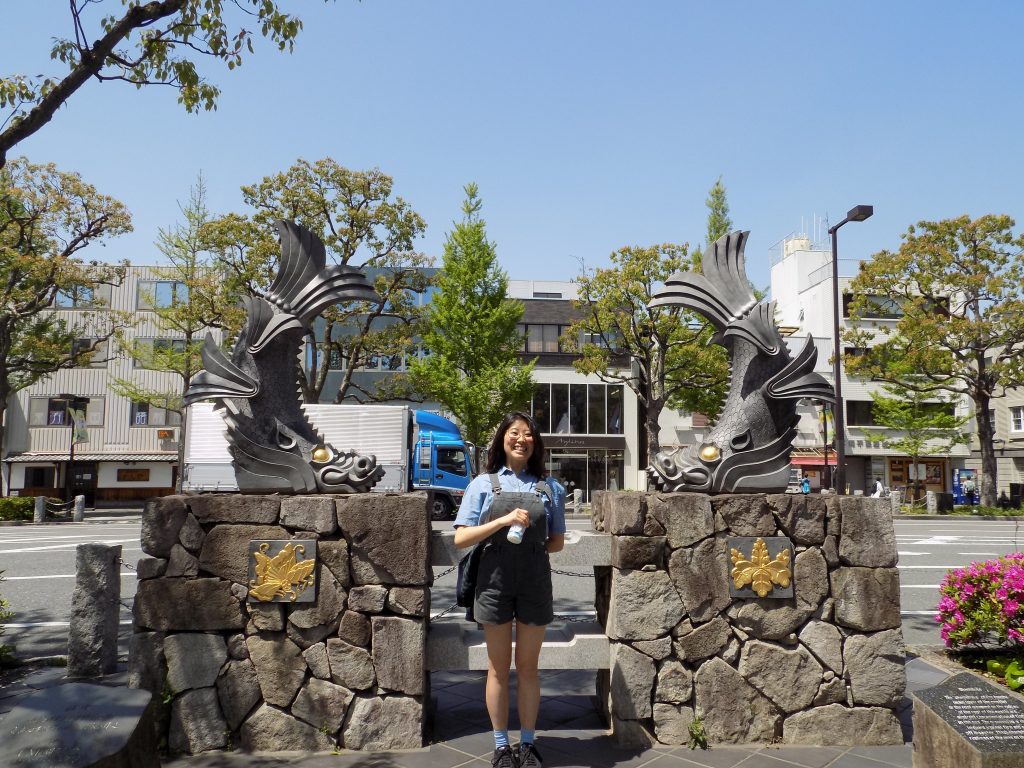 Day 4 Hiroshima
The morning was drenched with rain. We had been so lucky with the weather until today, which is fine. I got another dose of a different kind of free breakfast at this Hiroshima Toyoko-Inn, which was much the same but there was more variety in the onigiri (rice balls).
Leaving our bags in the hotel we hopped on a tram from Hiroshima station to the Atomic Dome to look at its skeleton structure. The Atomic Dome is a ruin left over and preserved from 1945 and is an eerie sight, particularly in all this rain. You can walk from here to the Hiroshima Peace Memorial Museum, which is a museum dedicated to the telling of the story of the inhabitants of Hiroshima on that awful day the atomic bomb was dropped on the city. It is very moving and the museum is of real significance for Japanese modern history. The use of victims' personal possessions to draw out the individual stories among the tens of thousands killed prevents the focus from moving from human suffering into the abstract realm of numbers and headline statistics.
Miyajima
Before noon and after collecting the bags we sat in a Mister Doughnuts in Hiroshima station waiting for our train to take us to Miyajima, our final destination. From the station we would take a ferry to a sacred island called Miyajima, also where wild deer roam and where in the sea stands the famous floating red tori or gate.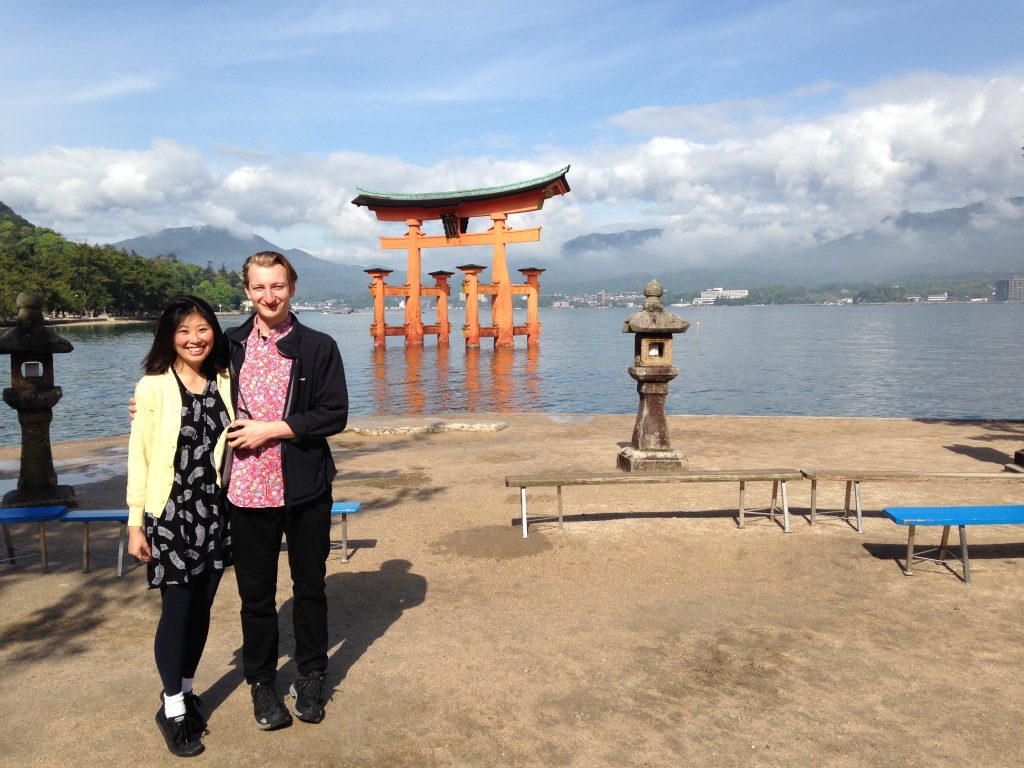 The island is beautiful, even in the rain and the main shrine of the island is called Itsukushima Jinja. In fact, the low-lying clouds and mist around the edges give the island an even more enigmatic and spiritual feel. The shrine complex is made up of red corridors and small stages for Noh plays which are built on stilts that allow the tide to ebb and flow beneath them. When the tide is in, Itsukushima Jinja seems to float on clear blue waters and when the tide is out, visitors get to see the pools of freshwater that are springing from beneath the wooden structures called the Mirror Ponds. It is quite a magical place to be. There is also a National Treasure Museum which holds some interesting artefacts relating to the island's history, and there are numerous other shrines and temples dotted around the forests and mountainsides; also a cable cart but due to the fog we couldn't make it up there. When the tide is out you can walk all the way out to the beach to see the giant red tori close up, and each of those red wooden pillars are enormous whole tree trunks.
That night we stayed in the Arimoto Grand Hotel based on the Miyajima Island itself as a treat and to mark the end of a brilliant and packed few days of travelling across the Eastern coastline of Japan. Our room overlooked virgin forest, protected by the religious traditions of the island. Nestled among untouched forest, our hair damp from the onsen, we watched the daylight fade, knowing that we had reached the furthest point of our travels. The ferry ride, the island's other-worldly gateway and the sudden stillness after so much travel, made the evening feel timeless and incredibly special.
Day 5 Miyajima to home
As we had the luxury to stay over night at Miyajima in the morning we woke early and had our beautiful breakfast at the hotel and experienced the early mornings sights of the island in the sunshine and without many tourists. The island looks beautiful in all weathers and seasons and the deer look more healthy than those of Nara. When we had arrived the day before the tide had been out so we had walked out to the tori on the shore, but this morning the tide was in and the waters were a pale blue and Itsukushima Jinja and the tori looked like they were floating on the sea.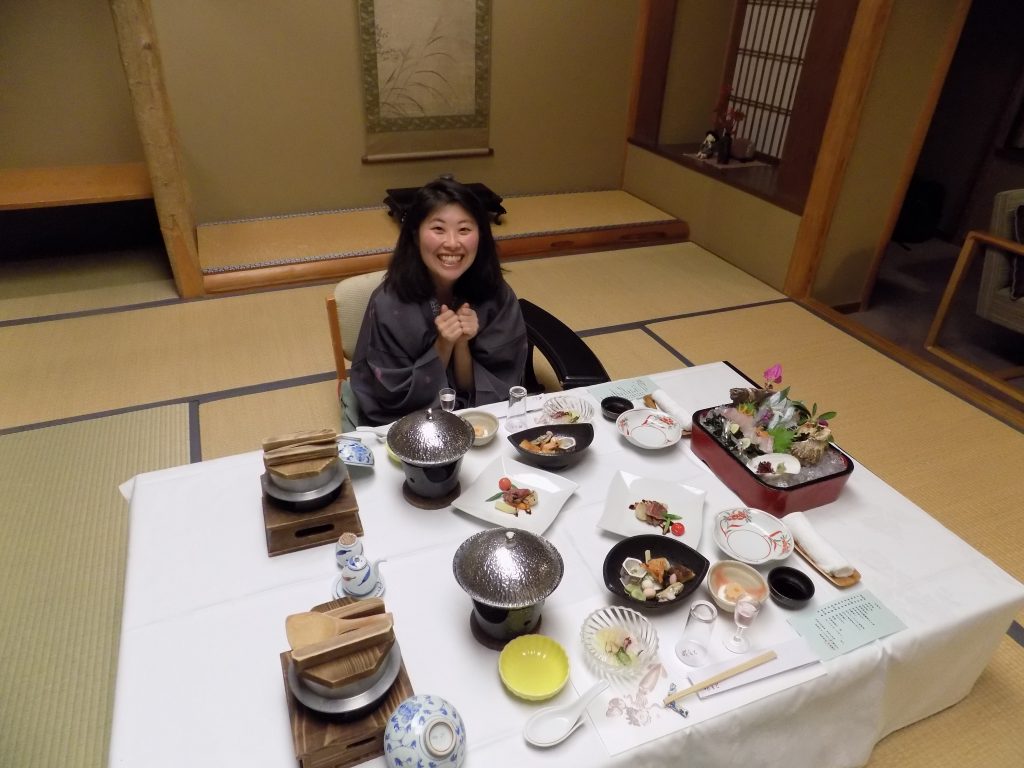 By noon we had returned to Hiroshima and by the afternoon we were passing through Osaka and shuttling back towards Tokyo from where our travels had begun.