Explore Japan close-up as part of Akemi's trips to Japan.
Akemi leads study tours to Japan each spring and autumn. She also holds residential study retreats (called gashuku in Japanese) several times a year in different parts of the UK. These are a natural extension of her activities as a teacher and lecturer. It is Akemi's aim to present authentic Japanese culture to British people in a fun and accessible manner.
Because much of the earliest interest in the cultural exchange visits came from Akemi's academic colleagues and students, some of whom had projects and particular activities they wished to incorporate into the plan, two important aspects of the cultural exchange visits are consultation and flexibility. With sufficient notice, it is possible to include things, such as meetings with and cultural demonstrations from artists, priests and teachers, who would not normally cooperate with other kinds of tours. It is also possible to arrange for participants to go to Japan earlier or leave Japan later than the main group.
Visits to Japan also include a combination of staying at a hotel and also with a host family.
Anyone wishing to take part in this cultural exchange visit should contact Akemi using the contact details listed below. Japanese language skills are not required, but any cultural interests and experience will be taken into account when matching host families and planning activities. Successful applicants will be asked to provide a non-refundable deposit of £200.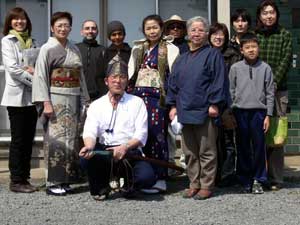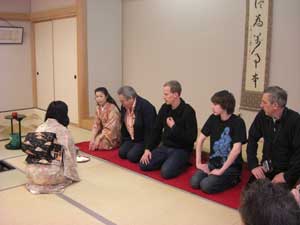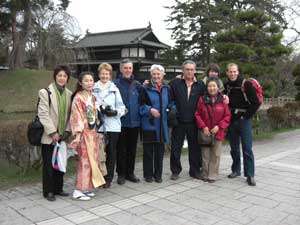 What people say about Akemi's Japan Tours
"Dear Akemi, I think I will be making a cultural tour of Japan every year with you, because I love the country, the people and the way of life so much. I especially enjoyed my stays with my host families and I have started regular contact with them – I learned so much in just a short space of time. Thank you for making the trip so informative and enjoyable".
"We were not disappointed and were acquainted with all the above and more, including meetings with many schoolchildren and their mothers, by hosts who were very keen to practice speaking English and to know about our way of life and looked after us extremely well. Had we visited Japan in a normal tourist way, much of this would have been missed, and if we did have some difficulties in communication and with some of the food it only added to the challenge and fun. A most enlightening and enjoyable trip".
"We had not considered a trip to Japan until hearing Akemi speak at our Rotary Club. We decided to join her group on the March 2005 visit and looked forward to seeing the cherry blossom, Mount Fuji, temples castles and the Shinkansen (bullet train) and to learning about many Japanese customs such as Tea Ceremonies, washing arrangements, shoe removals and many other customs which make the Japanese way of life so different from our own".
"The session I attended was much appreciated and I would recommend anyone visiting Japan to attend, even if they are seasoned travelers". "I had never been to Japan before and had no idea what to expect. Just learning from you made me relax so much. The small amount of vocabulary you taught us came in really useful, as did how to bow properly and accept and give your business card. All in all, the seminar was absolutely fabulous, well targeted and informative". "I would also strongly recommend the services that you offer once you arrive in Japan. Without that initially, life…
"Dear Akemi, Thank you once again for a phenomenal trip to Japan. You did a fantastic job and organised so many wonderful things for me to do. I could not have asked for more. Highly recommended for anyone interested in Japan who wants to get under its skin, rather than just be a tourist".
"Dear Akemi, I just wanted to thank you for the wonderful time I had in Japan. I still cannot believe that I actually was there only four months ago, as I cannot wait to go back. I have kept in contact with my host family and look forward to seeing them again. Thank you so much for helping me achieve one of my dreams in life".
"Lucky rarity! At AmeCon 2006 I won a competition to spend a two-week holiday in Japan. I was very grateful but also happy to know I would get to travel with a group from the UK. We met up in Tokyo and each of us got to stay with a Japanese family (or two) in the North. Endless hours of anime-watching and manga-reading could not have prepared us for many of our experiences".
Dawn Dean, winner of Akemi's competition at AmeCon 2006
If you have an interest in anime and manga then Akemi will be happy to include a visit to the Studio Ghibli Museum or other places you might request. Other activities, such as tea ceremony or watching martial arts can also be added to your visit.